HealthFlex is here to help. You have found the one home healthcare provider that truly stands apart from all others. Unlike many other agencies, HealthFlex was founded by nurses.
From the beginning, we have dedicated ourselves to providing exceptional healthcare to improve the quality of life for our patients—all in the safety and comfort of their homes.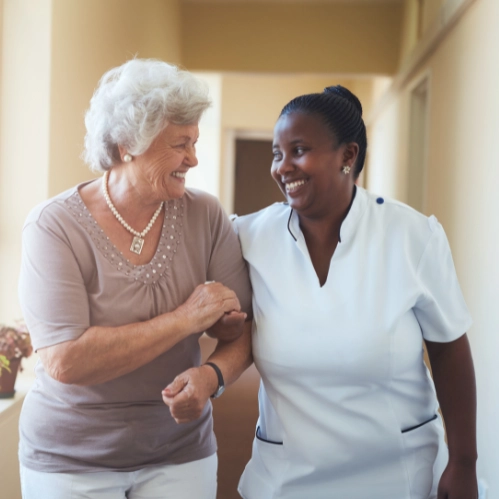 HealthFlex was founded by nurses with a similar passion for home health care. Our goal was to change how seniors in our communities receive care.
Our founder, Irene Gertsikov, is a nurse with more than 35 years of experience whose passion lies in helping the elderly community, and our CEO, Sofia Koshevatsky, is a Licensed Vocational Nurse.
HealthFlex started with a small group of passionate nurses and a core of hard-working, visionary leaders. We wanted to change the way health care is given by providing skilled, competent, and quality nursing care for the elderly, which came from our passion for great care for these patients.
HealthFlex is built on a foundation to provide high-quality, compassionate care that stems from the founders being nurses.
Nationally Recognized Care

Our long-term team members are the real leaders and deserve much of the credit for our agency's success and recognition. This is because of how hard they work and how much they care about our patients. We wouldn't be where we are now without each and every one of them.
Today, we're very proud to be one of the largest independently owned home health companies in Northern California. We focus on the patient, employee, provider, and clinician experiences. Even when a patient no longer needs our services, the name "HealthFlex" has made an impact on their healthcare.
HealthFlex was started by nurses who wanted to change the way patients receive health care at home.
We have always put the needs of our patients and communities first. So we decided to make a commitment to do things differently:
By putting our patients first at all times
By using our many years of experience as skilled nurses to help patients and their families
By adding our compassion to our care
By helping them improve their health and quality of life
By making our communities healthier by giving back
Over the years, we have helped thousands of patients and their families. We've helped them extend their length of life and keep their independence. We are proud to help people in our community, we appreciate the opportunity, and we appreciate your trust in us!
At HealthFlex, our team of highly trained clinicians provides education, understanding, kindness, love, and compassionate care, as well as ongoing support, 24 hours a day, seven days a week.
Because our patients come first, we are dedicated to giving them skilled, award-winning care at home, putting their quality of life and well-being above all else.
We help our clients keep their dignity and regain their independence so they can spend more time with their families and stay in the comfort of their own homes. We are driven by our experience, care, and true empathy for our clients. We're happy that our patients, their families, and their doctors know they can count on us to always treat them with understanding and care.
About
To restore dignity. To maintain stability and independence. To enable people's last years to be among the best years of their life. Collaborating with patients, their family members, and their doctors, dedicated home care professionals can optimize health in our community, sustain wellness, and improve the quality of life for all of us, one individual at a time.
HealthFlex keeps the door open, on weekdays, weekends, and even holidays. When there are times someone needs to be reached, we are always here to answer your questions or address your concerns. When hospitals have an issue with a patient they need a hand with, they call us, because we will always be available for patient needs.
HealthFlex always ensures that patients have the transportation they need, no matter how it must happen. At one point the President & COO of the company delivered a wheelchair himself to a patient. That is HealthFlex.
There isn't anything HealthFlex cannot provide at an at-home healthcare level. If there is no staff capacity for a case, HealthFlex will work with reputable companies in the community to coordinate what is needed for the patient. If we can't deliver the best, we will help our patients by coordinating with someone we trust who can. HealthFlex will also partner with companies to provide equipment for X-rays, EKGs, and ultrasounds at home.
Every care plan is different and individualized for each patient. What language do they speak? Where do they live? Who is the best to send to this patient?
Our HealthFlex intake team will scan through each patient's health needs and personal concerns in order to match their in-home care provider to their goals and personal preferences.
Our long-term goal is to positively impact thousands of families with our patient-centered approach and become the leader of healthcare at home for generations to come. We will accomplish this by delivering high-end, innovative, personalized healthcare, in the home, every single day. We will also combine our uniquely warm and individualized approach to the patient experience by furthering our "commitment to people first" in all areas of our business.
HealthFlex is a rapid, reliable, trusted, and compassionate resource that can provide a personalized experience to a wide range of home health, hospice, or private duty care.
We even invite the opportunity to handle the most challenging, high acuity cases while providing the patient with what they want most – to receive their care in the comfort of their own home or a loved one's home.
Always Giving Back to


The Community
We are dedicated to the people of the communities we serve. Beyond delivering exceptional home healthcare, we also lend our support — our time, energy, finances, and other resources — to numerous organizations and events in our area, including:
Proudly Serving the San Francisco Bay Area
HealthFlex was founded in 2012 by nurses with the mission of connecting people in need with home health care and hospice services across 11 counties in the Bay Area.
We are dedicated to serving the needs of our patients at home, maintaining the highest standards of professionalism and ethics, and giving back to the communities where we work and live.