Chronic Pain Management
Our specialists will provide a chronic pain management program that includes a variety of approaches
Home Care Options for Chronic Pain Management
Our top priority is educating our patients on their ability to control their symptoms so they can learn to overcome their pain, manage its effects, and begin to get the most out of their lives.
Our clinicians can determine the underlying causes of chronic pain, and begin to teach the patient to recover from, or how to reduce their pain. We also provide counseling, support, and educational information about medication and therapy options.
Your Title Goes Here
Your content goes here. Edit or remove this text inline or in the module Content settings. You can also style every aspect of this content in the module Design settings and even apply custom CSS to this text in the module Advanced settings.
Transforming In-Home Health Care
We are committed to leading the way in transforming the way that in-home health care is delivered for chronic disease management.
Hiring Highly Qualified Clinicians
HealthFlex hires highly qualified professionals with demonstrated expertise in delivering a superior level of personalized care.
Help Managing Chronic Conditions
Our teams of in-home care specialists help manage chronic disease conditions for diabetes, COPD, and cardiac patients.
Home Health Care can Help Patients to Design a Personalized Program
We are committed to leading the way in transforming health care at home. We hire highly qualified, compassionate professionals who have demonstrated expertise in delivering a superior level of personalized care to patients at home.
Skilled Nursing/Pain Management Specialist
Evaluation and management of symptoms
Medication evaluation and proper repositioning to reduce pain
Symptom control
Physical Therapy
Proper repositioning to reduce pain
Assistance with Activities of Daily Living (ADLs)
Home safety evaluation and education
Home medical equipment assessments and education home health aide management
Home Health Aide
Assistance with grooming and bathing
Light housekeeping in the patient care area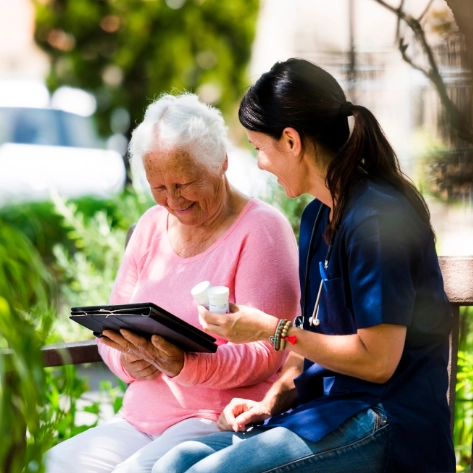 Read our satisfied patient stories
The best in-home care experience. Everyone was extremely nice and helpful. I will recommend this agency to my friends and family.
I.K.
This is the first that I had your services. I have many others before, but yours are the best. The nurse took her time to help me and listen. By the time, she left I was feeling great.
R.F.
I am extremely grateful for the care provided by your nurse and physical therapist. Both are caring, capable and devoted professionals. More important, they are good people. Because of these two, your company is highly recommended.
I.J.
Special thanks for the excellent care I received from your physical therapist and nurse. I have been in other home health care systems and this is (by) far the best I had. Please let them know how well they are doing.
T.R.
My nurse, case manager and my physical therapist were extraordinary. They were compassionate and good listeners. They should be commended for their care they provided to me and my family. The social worker was outstanding and thank you so much.
R.F.
It is a great agency. Very professional and knowledgeable people. Thank you from the bottom of my heart.
Anonymous
The nurse and physical therapist I was assigned have been excellent with their communication, care, and compassion. I truly appreciate their attention to detail and their going above and beyond to meet my needs.
R.F.
Care providers were professional, courteous, articulate, caring, on time. It was a pleasant experience.
E.L.
They talk to me and listen. That is always great. Thank you.
C.T.
Your team was wonderful and really helped me recover quickly. Everyone was wonderful, caring, and concerned.
P.D.
I am satisfied with the nurses that are helping me. They are very respectful and professional. My providers helped me walk again. they gave me exercises I needed for my health.
C.A.