Home Health Aides
Companionship, personal care, and activities of daily living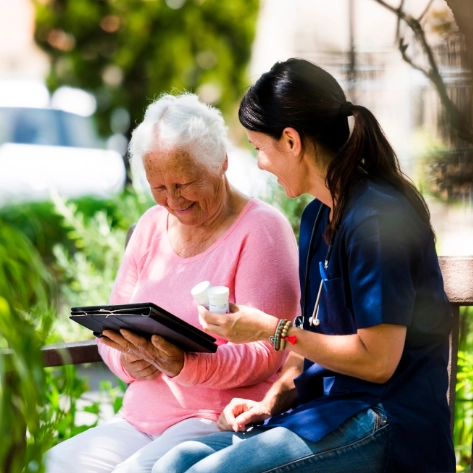 Home Health Aide Services For Seniors
Our professional home health aides help your loved one in the comfort of their home with tasks such as personal care, bathing and grooming, as well as some advanced medical needs. Home health aides are not only tailored to the patient's needs but also help them stay in the place where they feel most comfortable.
HealthFlex is a trusted provider of home health care for older adults in our community. For patients recovering from a complicated injury or condition needing assistance with daily tasks, at HealthFlex, our Home Health Aide professionals are ready to help you.
Home Health Aides
When most people wake up in the morning, they sit up and put their feet over the edge of the bed then get up and walk to the bathroom. They go to the bathroom, take a shower, brush their teeth, and do many other things to get ready for the day.
When it's time to think about food and nutrition, they make a menu, go shopping for the foods they want to eat, and cook their meals. They sit down to eat and clean up the kitchen and wash the dishes after the meal. All of these and many more things are called "activities of daily living."
Here at HealthFlex, we help patients with bathing, grooming, and other ADLs patients may be unable to perform. On top of that, our Home Health Aides are equipped with extra training and education to assist our patients with some basic medical needs like help with rehabilitation exercises, administering prescription medication, and monitoring vitals.
Our Home Health Aides have completed training and certifications that allow them to assist our patients with more medical needs.
As we age, it is important to continue to live with dignity and independence. Here at HealthFlex, our goal is to assist our patients and their families adapt to a disability or long-term illness by providing the medical, functional, and emotional support they may need.
Home Health Aides work closely with HealthFlex nurses and each patient's primary doctor to ensure adherence to the patient's personalized care plan. Some of our Aides have the capability of maintaining medical equipment, like oxygen, allowing for more flexibility for our patients.
Our home health aide professionals assist with the many daily tasks including the upkeep of good personal hygiene, which promotes health and well-being. This helps patients take pride in their appearance.
We know our patients want to be home with their loved ones. A lot of our patients want to stay in their own homes as long as possible, but many of them need help with everyday tasks to do so. Home care aides get to help seniors stay in the place where they are most happy and comfortable.
In some cases, our aides are the help a family needs to keep their aging parents safe and independent at home. At HealthFlex, we strive to make a big difference for someone who has trouble with daily tasks like bathing and getting dressed. Below are some of the many tasks our home care aides are happy to help our clients with:
Bathing
Dressing and grooming
Using the bathroom
Prescribed medication maintenance
Vitals monitoring
Medical equipment maintenance
Rehabilitation exercises
Live alone and don't have family nearby
Need assistance with bathing and other daily life activities
Are restricted to a bed or a wheelchair
Have muscle atrophy
Have dementia or other mental health issues
Requires oxygen at home
Home Health Aides


Work Alongside Your Nursing Team
Our HHAs work directly under your nursing team to provide additional assistance with personal care such as bathing and grooming. Your nurse will assess your situation, and determine how often an HHA will need to visit you at home. Together, they form a comprehensive home health team.
Read our satisfied patient stories
The best in-home care experience. Everyone was extremely nice and helpful. I will recommend this agency to my friends and family.
I.K.
This is the first that I had your services. I have many others before, but yours are the best. The nurse took her time to help me and listen. By the time, she left I was feeling great.
R.F.
I am extremely grateful for the care provided by your nurse and physical therapist. Both are caring, capable and devoted professionals. More important, they are good people. Because of these two, your company is highly recommended.
I.J.
Special thanks for the excellent care I received from your physical therapist and nurse. I have been in other home health care systems and this is (by) far the best I had. Please let them know how well they are doing.
T.R.
My nurse, case manager and my physical therapist were extraordinary. They were compassionate and good listeners. They should be commended for their care they provided to me and my family. The social worker was outstanding and thank you so much.
R.F.
It is a great agency. Very professional and knowledgeable people. Thank you from the bottom of my heart.
Anonymous
The nurse and physical therapist I was assigned have been excellent with their communication, care, and compassion. I truly appreciate their attention to detail and their going above and beyond to meet my needs.
R.F.
Care providers were professional, courteous, articulate, caring, on time. It was a pleasant experience.
E.L.
They talk to me and listen. That is always great. Thank you.
C.T.
Your team was wonderful and really helped me recover quickly. Everyone was wonderful, caring, and concerned.
P.D.
I am satisfied with the nurses that are helping me. They are very respectful and professional. My providers helped me walk again. they gave me exercises I needed for my health.
C.A.