Alzheimer's & Dementia Care
Keeping Loved Ones Safe and Happy at Home
HealthFlex works hard to make sure that our patients stay happy and as independent as possible.
HealthFlex knows how hard it is for families to care for an elderly person with Alzheimer's disease or dementia, especially when it comes to making sure they can stay safe at home.
Our specially trained caregivers and clinicians interact with clients in ways that are intellectual, physical, and emotional. These interactions improve the quality of life for seniors and their families and work well with medical care.
We can help you take care of a loved one at home and give you the help you need. We believe that everyone, no matter how old they are or how much care they need, should have connections, a sense of purpose, and moments that make them feel good.
The Benefits of Alzheimer's Home Care
Alzheimer's home care is an important way for people with the disease and their families to keep going. It gives full, around-the-clock help that is tailored to the needs of each person. This helps them stay safe and comfortable in their own home, where they feel most at ease.
Alzheimer's home care helps manage daily routines, stimulates the mind, and helps with important jobs like taking medications, making meals, and keeping clean.
Alzheimer's home care with HealthFlex also focuses on emotional support, which can help ease feelings of confusion, fear, and worry that are often caused by Alzheimer's. Our caring professionals have been taught in special ways to deal with changes in behavior. This improves the quality of life for your loved one and gives family caregivers a much-needed break.
This personalized approach to care not only helps people keep their dignity and independence, but it also helps them get more out of the things they do every day, making the surroundings more comfortable and stable.
Alzheimer's Support & Education
When families choose HealthFlex, they receive support that includes:
Caregivers and a clinical team who are specially trained
Family education to understand Alzheimer's and dementia better
Helping engage in your loved one's preferred activities to keep busy physically, mentally, and emotionally
In-home services like personal care, companionship, medication reminders, and more
Healthcare services from nurses and therapists to address any health concerns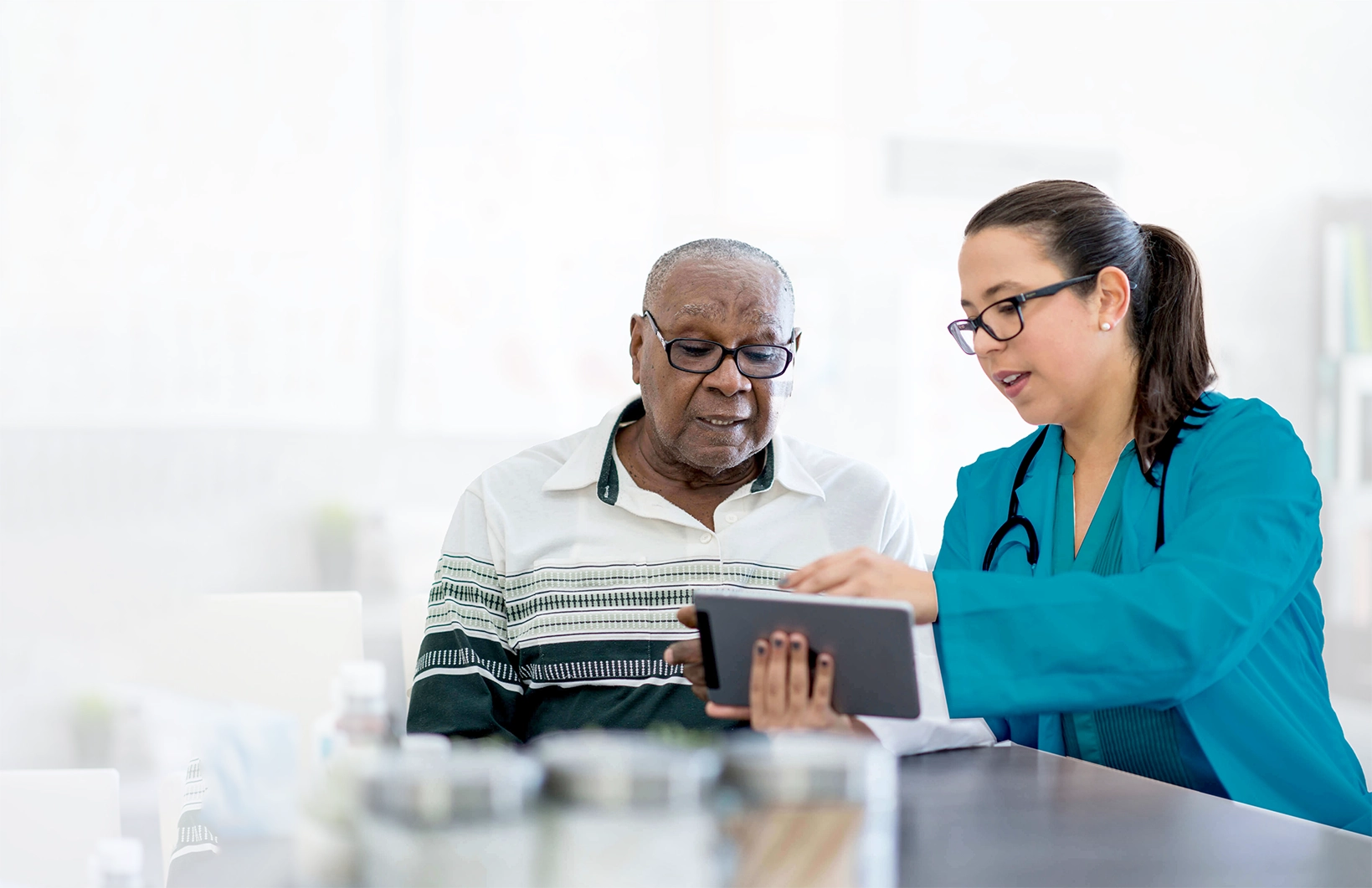 Understanding Alzheimer's Disease
At HealthFlex, our goal is to inform and educate you and your loved ones on this difficult disease. We will make sure you are as comfortable as possible with your loved one's care with us.
Home care for dementia can make it hard to keep your loved one safe and happy at home.
HealthFlex is here for you and your loved one's needs. We provide compassionate at-home dementia care so you can feel at ease that your loved one is well taken care of.
How our Home Dementia Care Services Help Seniors
Our dementia care services at HealthFlex can help your loved one deal with the hardest problems that come with dementia. Depending on the needs of your loved one, we have staff who can check on your loved one anywhere from a few times a week to 24/7 monitoring and care.
Some of the ways our dementia care helps seniors in the community:
Keeping an eye on our patients to make sure they don't get lost or hurt themselves
Providing a positive, supportive presence for our patients to spend time with
We help our patients deal with the anxiety, anger, confusion, and disorientation that may come with dementia
We remind our patient's to take their medicine at the right time and in the right amount.
Promoting healthy habits can slow the progression of dementia
Keeping our patients at home, where they are most comfortable, is what we do best
Creating a Safe and Nurturing Environemnt for Dementia Patients
At HealthFlex, we know that memory issues can make familiar places seem strange and hard to understand. So, our home health care team works hard to make a safe and caring setting that helps people think better and feels less anxious or upset.
We start by looking at the home's environment to find and fix possible safety problems, such as poor lighting, too much stuff, or things that could cause someone to trip and fall. We also make living places easier for people with dementia to use by adding cues and labels that help them get around on their own.
Our nurses use personalized care plans to make sure that the patient's activities and routines are in line with his or her habits and preferences. This makes the patient feel less confused and agitated.
We also offer emotional support and gentle reassurance to help people with dementia deal with their difficulties. Our team's main goal is to keep your loved ones' dignity, independence, and comfort, making their home a safe place where they can thrive no matter what their situation is.
HealthFlex Dementia Care Goal
Our goal is to help seniors make the most of their golden years. We build long-lasting relationships with our clients, and we often hear that our caregivers have become like family to the seniors we take care of.
Providing Comfort and Joy Through At-Home Alzheimer's and Dementia Care
Comfort and happiness are not only possible with Alzheimer's and dementia care, they are a big part of what we do at HealthFlex. Our highly trained caregivers start every day with the goal of not only giving the medical and daily living care that our clients need but also bringing happiness and light into their lives.
We think that giving our patients even small moments of joy and happiness can make a big difference in their general health. This could be done by laughing together, listening to their favorite music, talking about a happy moment, or just being there for them.
Our "person-centered" method encourages caregivers to learn about each person's hobbies, interests, and passions and to include them in daily life. By doing this, we can turn everyday care into chances to connect, validate, and have fun together, which can bring Alzheimer's and dementia patients much-needed comfort and happiness.