Physical Therapy
Physical Therapy gets patients back on the move.
What is Physical Therapy?
Physical therapy is a type of medical treatment that helps people move again, like standing, walking, and moving different parts of their bodies. Physical therapy can be a good way to treat illnesses or injuries that cause pain, problems with movement, or limited mobility.
Physical therapy can both fix problems and keep them from happening. Physical therapists can fix functional movement imbalances in people who have been hurt or have health problems. They can also use techniques to keep people from getting hurt and improve their performance.
This treatment is done by people who are called physical therapists, physiotherapists, or PTs. These specialists teach patients how to improve their mobility, strength, and ability to function.
Types of Physical Therapy
There are many types of physical therapy, these include, but are not limited to:
Orthopedic Physical Therapy
Geriatric Physical Therapy
Neurological Physical Therapy
Cardiovascular and Pulmonary Rehabilitation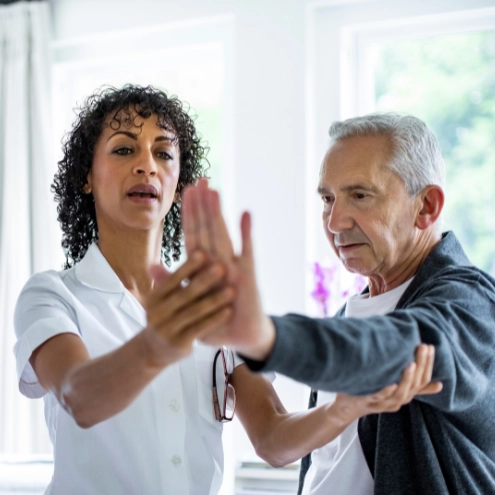 What are the Pros of In-Home Physical Therapy?
The most common reason people visit a physical therapist is to treat pain or a potential injury that is negatively affecting their ability to move and exercise normally. When you first visit a physical therapist for pain, they will conduct a comprehensive evaluation to identify postural deficits, observe your movement patterns, and test your muscle strength and joint range of motion in the painful area and the surrounding muscles and joints.
All of this is done to aid in the identification of any limitations that may be contributing to your pain. From there, they can develop an individualized treatment plan that focuses on improving strength and mobility where it's needed and reducing pressure and pain at specific joints. Physical therapy also carries the following benefits:
Your Title Goes Here
Your content goes here. Edit or remove this text inline or in the module Content settings. You can also style every aspect of this content in the module Design settings and even apply custom CSS to this text in the module Advanced settings.
Convenience
When the therapist comes to them, they don't have to worry about the weather, traffic, or other things that can make it hard to get to therapy. Instead, they can focus more on getting better.
One-On-One Care
When a patient gets physical therapy at home, our team gives them their full attention. Most patients feel like they are getting better care when they are treated at home.
Outpatient Care Can Be Stressful
Most of our patients receive therapy at home because they are homebound, and getting to a facility for therapy can pose a difficult obstacle and stressor. In-home care with HealthFlex can help eliminate the stress of finding a way to get to therapy sessions that are vital to our patient's health.
Your Title Goes Here
Your content goes here. Edit or remove this text inline or in the module Content settings. You can also style every aspect of this content in the module Design settings and even apply custom CSS to this text in the module Advanced settings.
Effective
The most important thing about how effective in-home therapy can be is how well the patient follows the treatment plan. Patients also found that in-home treatments were more intense and focused because the therapist worked with them in their own homes, where they felt more comfortable and confident.
Better Functionality
When a physical therapist works with a patient at home, the patient can immediately relate to the movements and exercises. For example, when a physical therapist tells their patient to perform a certain stretch or exercise in a doorway, they can show the patient exactly which doorway to use and how to do the specific stretch. Even though this may seem like a small thing, having a routine fit into the patient's familiar environment helps them follow it and understand it better.
Less is More
With in-home therapy, the physical therapist has to keep the session simple, using only what the patient has at home and what can fit in their car. This can lead to the patient going back to basic strength-building and flexibility exercises, which give them more things to do between their therapy sessions.
Our Licensed Physical Therapists Build Confidence and Independence
We strive to assist patients in maintaining their physical skills and preventing future deterioration. Our physiotherapy professionals work with patients who have experienced an injury, undergone surgery, or are in need of geriatric care. Our goal is to help patients regain their safety and independence.
Physical Therapy
Our California-licensed physical therapy experts work with you to build strength and stamina. We help patients maintain their physical abilities and prevent future setbacks.
Increased mobility equals increased ability.
Our physical therapy team conducts a safety assessment of your home to ensure there are no trip or fall hazards or other dangerous obstructions.
Your physical therapist can also help you use any medical devices you may need, including walkers and wheelchairs.

HealthFlex Physical Therapy Services
Gait training
Strength and activity tolerance training
Safety assessment and adjustments
ADL (activities of daily living) training
Orthopedic rehabilitation
Fall prevention
Individualized home exercise programs
Assistance device training for patients, families, and caregivers

Conditions Helped by HealthFlex Physical Therapy Services
Post-surgical care (knee replacement, hip surgery, and more)
Amyotrophic lateral sclerosis (ALS, also known as Lou Gehrig Disease)
Arthritis
Back and neck pain
Balance disorders
Mobility challenges
The Benefits of


HealthFlex Physical Therapy Services
Physical therapy takes into account that every body and mind are different and have varying functions. It's all about getting people back to doing the things they love and giving them back their functional mobility. During your treatment, your therapist will get to know you and help you feel better by being there for your journey.
Reduce or eliminate pain or the need for surgery
Help with the management of diabetes and vascular diseases, age-related issues, heart and lung disease, and other conditions
Improve mobility and balance
Help prevent falls
Help with recovery from a stroke
Reduce the need for opioids to control pain
Read our satisfied patient stories
The best in-home care experience. Everyone was extremely nice and helpful. I will recommend this agency to my friends and family.
I.K.
This is the first that I had your services. I have many others before, but yours are the best. The nurse took her time to help me and listen. By the time, she left I was feeling great.
R.F.
I am extremely grateful for the care provided by your nurse and physical therapist. Both are caring, capable and devoted professionals. More important, they are good people. Because of these two, your company is highly recommended.
I.J.
Special thanks for the excellent care I received from your physical therapist and nurse. I have been in other home health care systems and this is (by) far the best I had. Please let them know how well they are doing.
T.R.
My nurse, case manager and my physical therapist were extraordinary. They were compassionate and good listeners. They should be commended for their care they provided to me and my family. The social worker was outstanding and thank you so much.
R.F.
It is a great agency. Very professional and knowledgeable people. Thank you from the bottom of my heart.
Anonymous
The nurse and physical therapist I was assigned have been excellent with their communication, care, and compassion. I truly appreciate their attention to detail and their going above and beyond to meet my needs.
R.F.
Care providers were professional, courteous, articulate, caring, on time. It was a pleasant experience.
E.L.
They talk to me and listen. That is always great. Thank you.
C.T.
Your team was wonderful and really helped me recover quickly. Everyone was wonderful, caring, and concerned.
P.D.
I am satisfied with the nurses that are helping me. They are very respectful and professional. My providers helped me walk again. they gave me exercises I needed for my health.
C.A.